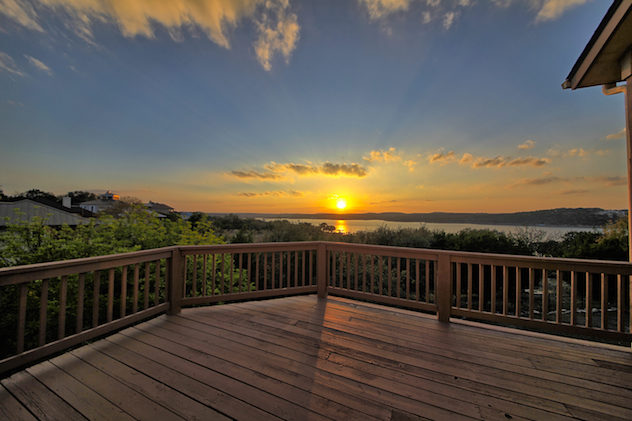 The north side of Lake Travis is a great place to live! The communities (Point Venture, Lago Vista, Jonestown, and Cedar Park) on the north side of Lake Travis offer lakeside living at a fraction of the cost. They have highly rated schools and are continuing to develop amenities that only larger towns have to offer.
Lake Travis is a beautiful man-made reservoir on the Colorado River in central Texas. The lake offers a variety of activities including boating, fishing, swimming, paddle-boarding, canoeing, scuba diving, and other water sports. There are numerous parks with picnic areas, hiking trails, and camping spots that are accessible by boat or car. The lake acts as a reservoir and serves as a buffer for populations downstream — helping to reduce the risk of flooding and allowing for controlled releases during times of agricultural need.
Lakefront property is some of the most desirable of all properties to build a home. Unfortunately, property on the south side of Lake Travis remains out of reach for many middle-income Americans. Lakefront land on the north shore of Lake Travis, however, can still be found at affordable prices. But don't wait too long, property values have historically followed lake levels, and with rising lake levels after the rains in the spring of 2015, prices here are likely to follow.
Lago Vista was rated one of the top 5 towns to live and raise a family in Texas. Wildlife, the scenery, and the relaxing environment are what makes this community special. There are multiple public golf courses and a wildlife preserve broader the city. The North Lake Travis schools in the Leander and Lago Vista ISD have all earned distinctions in the district assessments of the Texas Education Accountability Ratings.
If you don't believe me that the north side of Lake Travis is a great place to live, well, come see for yourself. I will be happy to show you all that this area has to offer; in fact, I don't just enjoy working here, but I enjoy living here with my family as well… and we love it!
Emily Dieckmann, REALTOR
512-645-4000